The Flag of the United States of America
Following the attack on America on September 11th, 2001, Americans expressed their unity with the strongest most powerful symbol we have, our Flag. After the initial shock they stripped the shelves of their local stores of every available U.S. Flag. Large numbers of these Flags were put into service 24 hours a day, seven days a week. Unfortunately, many of these Flags were not up to the task of representing our Country long term. Seeing the worn and tattered Flags populating the neighborhoods motivated us here at the Depot to search out and find a Flag fit to represent our great country.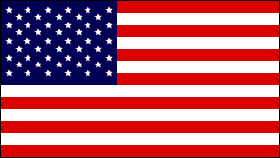 Flag of the United States
Our quest for THE Flag concluded when we found a family owned and operated supplier who began making Flags over 80 years ago. Their commitment to quality, growth, and integrity matches our own. (click on Flag for more info) Because these all-weather flags, made of DuPont Solarmax nylon with fully embroidered stars, look better and last longer, they give your home, business or institution a cost effective means for displaying your national pride with a great flying flag...for the longest period of time!




Interment Flag
This 5' X 9 1/2' Flag conforms to government proportion specifications. Made with natural cotton fiber with embroidered stars and sewn stripes, this Flag is sized for use in funeral ceremonies as a casket covering. It may also be displayed outdoors as any other Flag except during periods of inclement weather. For outdoor display choose all weather Nylon in the pulldown window.



Polyextra Flag
Made by the same supplier of the Flags above, this extra heavy duty Flag has all of the same features. This flag is constructed of two-ply polyester fabric that is specially loomed and dyed to withstand the most demanding weather conditions, counteract the effects of ultraviolet light, and still remain crisp and bright. Because of the weight of the fabric more wind is required to make this Flag fly, making it suitable for situations of greater wind such as taller flagpoles or on rooftop poles.



Cotton U.S. Flags
When we were growing up all the Flags we knew were made of cotton. So you'll pardon us if we're a bit nostalgic for the look and feel of this natural fiber Flag. This Flag is carefully manufactured using traditional heavyweight 2X2 ply mercerized cotton bunting. Extra rugged weave actually exeeds U.S. Government specifications and the most modern dyeing techniques ensure brilliant colors that are weather fast. Embroidered Stars and sewn Stripes. This flag is an excellent choice for indoor displays.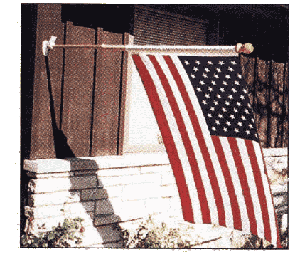 Banner Flag 50 stars
$37.00
Endura-Nylon U.S. outdoor Banner Flag with simple pole sleeve and leather tabs. This Flag measures 30" X 48" and can replace any decorative flag or banner. Embroidered Stars and sewn Stripes.



---
Pay us securely with these major credit cards or through PayPal!

Contact Customer Service