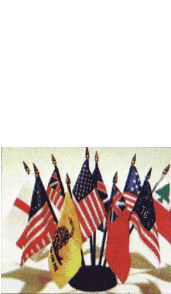 Historical Desktop Flag Sets
Facilitate hands on learning with our Endura-Gloss™ Mounted Flags with Gold Spears. Flags can be removed from base for classroom pass-around.
Beautifully printed on luxurious silk-like material, these flags offer the highest quality in a mounted flag. Our 4" x 6" Historical Desk Flags are carefully hem-stitched on all four sides providing longer lasting beauty. Supplied on 3/16" x 10" black plastic staff.
$24.10
Historical Flag Set #2< includes the following Flags: BENNINGTON, BETSY ROSS, BRITISH RED ENSIGN, BRITISH UNION, CONTINENTAL, CROSS OF ST. GEORGE, GADSDEN, GRAND UNION, U.S. 15-STAR, U.S. 50-STAR with solid black wood base.