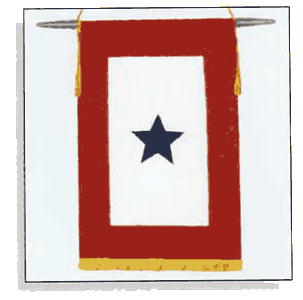 Military Service Flag Click on Flag image for History and How To Display information

U.S. Code, TITLE 36, Subtitle I, Part A, CHAPTER 9
Sec. 901. - Service flag
(a) Individuals Entitled To Display Service Flag. -


A service flag approved by the Secretary of Defense may be displayed in a window of the place of residence of individuals who are members of the immediate family of an individual serving in the Armed Forces of the United States during any period of war or hostilities in which the Armed Forces of the United States are engaged.

When my brother Lowell (pictured below on Monkey Mountain near Da Nang) shipped-out to Viet Nam, we were proud to display the Blue Star Service Flag at our home. Display this Flag in the window of your home to honor family members serving in the Armed Forces. These banners are fully sewn reading correct on one side and complete with gold fringed bottom, wood dowel with spear ends and gold hanging cord. Stars are blue and borders are red. For one family member in the Service select 1 star flag, two family members the 2 star, etc.