Flag Poles and Mounts
Regal Flag Set
We think this is a sharp looking set! This kit includes a 6' X 3/4" black or white (your choice) fiberglass pole, polished solid cast brass mounting bracket with brass mounting screws. To top it off, a solid brass metal acorn ornament. And if good looks weren't enough, it also comes with the NeverFurl Flag unfurler. You can fly your Flag all day long, every day of the year and the wind will never wrap the Flag around the pole. 3'X 5' nylon U.S. Flag with embroidered stars and sewn stripes included!
Now available, the Deluxe Regal Flag Set. All of the above features but with a beefy 1 inch diameter fiberglass pole. Ships UPS oversize (OS1).

NeverFurl Kit
With a NeverFurl kit you can fly your Flag all day long, every day of the year, and the wind will never wrap your Flag around the flagpole. The NeverFurl kit is easy to install and comes complete with everything needed including instructions and detailed drawings. No additional tools are required. Retrofit your existing flagpole or new one for hassle free Flag display! Comes in four sizes.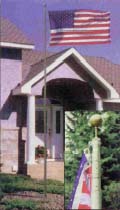 Telescoping Flagpoles
You and your neighbors will appreciate these noise free aluminum telescoping flagpoles! No ropes or pulleys to bang in the wind. Polycarbonate swivel rings allow two Flags to simultaneously fly freely. Sturdy 16 gauge aluminum pole raises or retracts in seconds with a convenient flick of a spring release button. Polycarbonate bushings allow each section of the pole to slide up and down smoothly, metal never touches metal. Supplied with a a clear polycarbonate collar which is designed to fit around the lowest button on the flagpole to prevent unauthorized raising or lowering of the flagpole. This collar can be secured with a nut and bolt or small lock (not included). Included heavy duty PVC ground sleeve allows removal of flagpole for storage or use in another location.
Now available in 15' and 20' in three different anodized, or white painted, finishes with 3" gold anodized ball ornament and 25' in clear anodized finish with 4" gold anodized ball ornament. Butt diameter of 15' pole is 2.25", 20' butt diameter is 2.5" and 25' butt diameter is 3". Top diameter of all telescoping poles is 1.75".
Ships UPS oversize (OS1).


Aluminum Wheel Mount for Telescoping Flagpole
$199.99
You love your telescoping flagpole at home, now take it on the road with you. Aluminum wheel stand holds your telescoping flagpole making for an outstanding addition to your RV campsite, concession stand, car dealership, tailgate party, etc. Made of lightweight, sturdy aluminum with maintenance free anodized finish. For 16' & 20' flagpoles with butt end diameter of 2.25" - 2.5".


Homesteader Flagpole, Tapered
$279.00
All aluminum ground set flagpole available in 20' exposed height with a butt diameter of 3" tapering to a top diameter of 2". Flagpole consists of silver anodized, seamless aluminum tubing sections which swedge together providing a smooth, tapering appearance.
Standard Fittings Include: 3" diameter gold anodized aluminum ball ornament. Cast aluminum truck with pulley. Solid braided polypropylene halyard (rope) with 2 nylon flag snaps. Cast nylon rope cleat with mounting screws. Heavy-duty ground sleeve. Decorative display/storage box. Ships oversize UPS (OS1).


Telescoping SuperFlex Poles
$82.00
These telescopic white fiberglass flagpoles sway in the breeze producing a dramatic, attention-getting display. When used in combination with our NeverFurl flag unfurlers (above), the visual effect is amazing.
* 15' adjusts from 6' to 15' and will accommodate two 2x3' flags, OR one 3x5' flag OR one 4x6' flag.
* 21' adjusts from 8' to 21' and will accommodate two 3'x5' flags, OR three 2'x3'flags OR one 4x6' flag.
* Ground Sleeve Included.
* RV's, Boy Scouts, camping events, tailgating, or wherever a Flag display is desired.
Pricing does not include any flags or flag unfurlers.


Flagpole Tire Mount
Aluminum tire mount available for three different pole sizes: 1 3/8", 1 1/2", and 2" (supplied with thumb screws). Simply park vehicle tire on tire mount creating an ultra stable holder for your Flagpole. Great for RV's, Boy Scout events, camping, tailgating, or any other outdoor event where a Flag display is desired.

Snaps, Rubber Coated
$7.00
Here in the Chicago area we have lots of brisk wind and the sound of the Flag snaps banging against a Flagpole can be downright annoying, we know! These snaps will help minimize the racket! Made of solid cast brass, 3 inches in length, with a heavy white rubber coating (also available in brown for $7.40 each).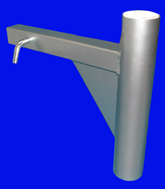 Hitch Mount
$112.00
Aluminum trailer hitch mount for standard 2" square Reese Receiver Hitches. Accomodates poles with butt diameter of 2 1/4" and 2 1/2".



---
Pay us securely with these major credit cards or through PayPal!

Contact Customer Service