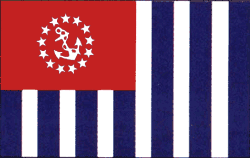 U.S. Power Squadron Ensigns
The U.S. Power Squadrons are associations of private boaters for the promotion of safer boating through educational and awareness programs. They originated in the power squadron founded within the Boston Yacht Club in 1913. Boats commanded by members of the USPS may fly the USPS ensign, which is a registered trademark of the U.S. Power Squadrons. It was adopted by the USPS and registered with the U.S. Patent Office in 1916.

The preferred point of hoist for the USPS ensign is the starboard spreader of a boat's mainmast. USPS rules also permit it to be flown at the stern staff, peak of the gaff, or leech of the mainsail, but to put it at any of these spots is to usurp the place of honor which is properly occupied only by the national ensign or, by custom, the yacht ensign when in U.S. waters.

Our U.S. Power Squadron Ensigns are made of nylon with embroidered fields and sewn stripes. The 30"X 48" ensign has appliqued field and sewn stripes.